Registration
Save money by registering early. Our special member rate applies to NCPA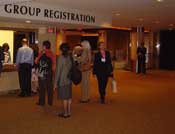 members, AND to our sister organizations who extend the same courtesy to us. You are all welcome!
Best to register right away. Space is limited and you won't want to miss this great event!
How to pay
-- Download a registration form and mail it in with a check.
-- You can register the day of the conference, too. But procrastination has a price. It costs more. Register early and get the best rate – $120.00 for NCPA members and affiliate members.
Registration form

If you have any questions or concerns, you can contact the conference director at: conference@norcalpa.org.