"A Publishing and Writing Odyssey" (NCPA Conference 2010) is going to be great! Get the flyer, schedule, and registration form at the bottom of this page.
It's going to be an excellent event, with nationally-known publisher Dominique Raccah (SourceBooks) keynoting. She's the head of the nation's largest "small publisher." She's a nationally recognized publisher and business leader. And she's not afraid of taking risks. She puts out the Fiske Guide to Colleges, publishes poetry and has resurrected Georgette Heyer!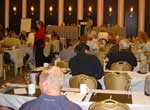 This daylong conference is an opportunity for emerging and established authors and publishers to hear firsthand from experts. Lunch, which is included in the registration price, and several generous breaks will give you opportunities to network.
You'll get more information than ever from all our excellent presenters: agents, marketers, accountants, and distributors. Check out the schedule! There are sessions for both authors and publishers, and there will be many extras as well.
• Free one-on-one sessions with selected presenters
• Lunch (excellent food) included in registration (menu)
• Music at lunchtime
• Onsite bookstore hosted by Time Tested Books
• Announcement of the winners of the NCPA Awards 2010
• NCPA coffee mugs on sale
• Charity raffle and silent auction
• Special room rate at The Red Lion for conference attendees
Please visit our registration page for information on how to register and pay.
When it is
Saturday, April 24th, 2010
8:00 am – 6:00 pm
Where it is
Red Lion Hotel
1401 Arden Way
Sacramento, CA 95815-4002
More information
Get your forms here
Flyer


Post Card


Registration Form


Schedule


Sponsor Flyer


Sponsor Registration

Have questions or concerns? Write the conference director at: conference@norcalpa.org